Please check out this fantastic article by Dollar Sprout with our president, Matt Warzel, as a contributor – 10 Tips for Writing a Cover Letter That Helps You Stand Out
Hey, #LinkedIn community! 👋  I was fortunate enough to be featured in this fantastic article by Dollar Sprout: 𝟣𝟢 𝖳𝗂𝗉𝗌 𝖿𝗈𝗋 𝖶𝗋𝗂𝗍𝗂𝗇𝗀 𝖺 𝖢𝗈𝗏𝖾𝗋 𝖫𝖾𝗍𝗍𝖾𝗋 𝖳𝗁𝖺𝗍 𝖧𝖾𝗅𝗉𝗌 𝖸𝗈𝗎 𝖲𝗍𝖺𝗇𝖽 𝖮𝗎𝗍
A well-crafted cover letter can leave a first impression that gets you noticed well before an employer ever gets to your resume. Here's how to make the most of that important moment.
Early in my career, cover letters and resumes involved a trip to the printer and at least one sleepless night of obsessing over punctuation. Only recently, when I attempted to hire someone myself, did I realize how much things have changed — or how much people seem to think things have changed.
Many emailed resumes came with a short note, if anything. More than one used smiley face emojis. And while they're great for texting, using emojis in a cover letter comes across as unprofessional.
Cover letters may be more often emailed rather than printed these days, but you still need to follow basic cover letter etiquette. Without it, you might find yourself struggling to get the job you want.
My take:
Sample Cover Letter Format
Matthew Warzel, President of MJW Careers, provided a template cover letter. You can use this exactly or as inspiration to create your own.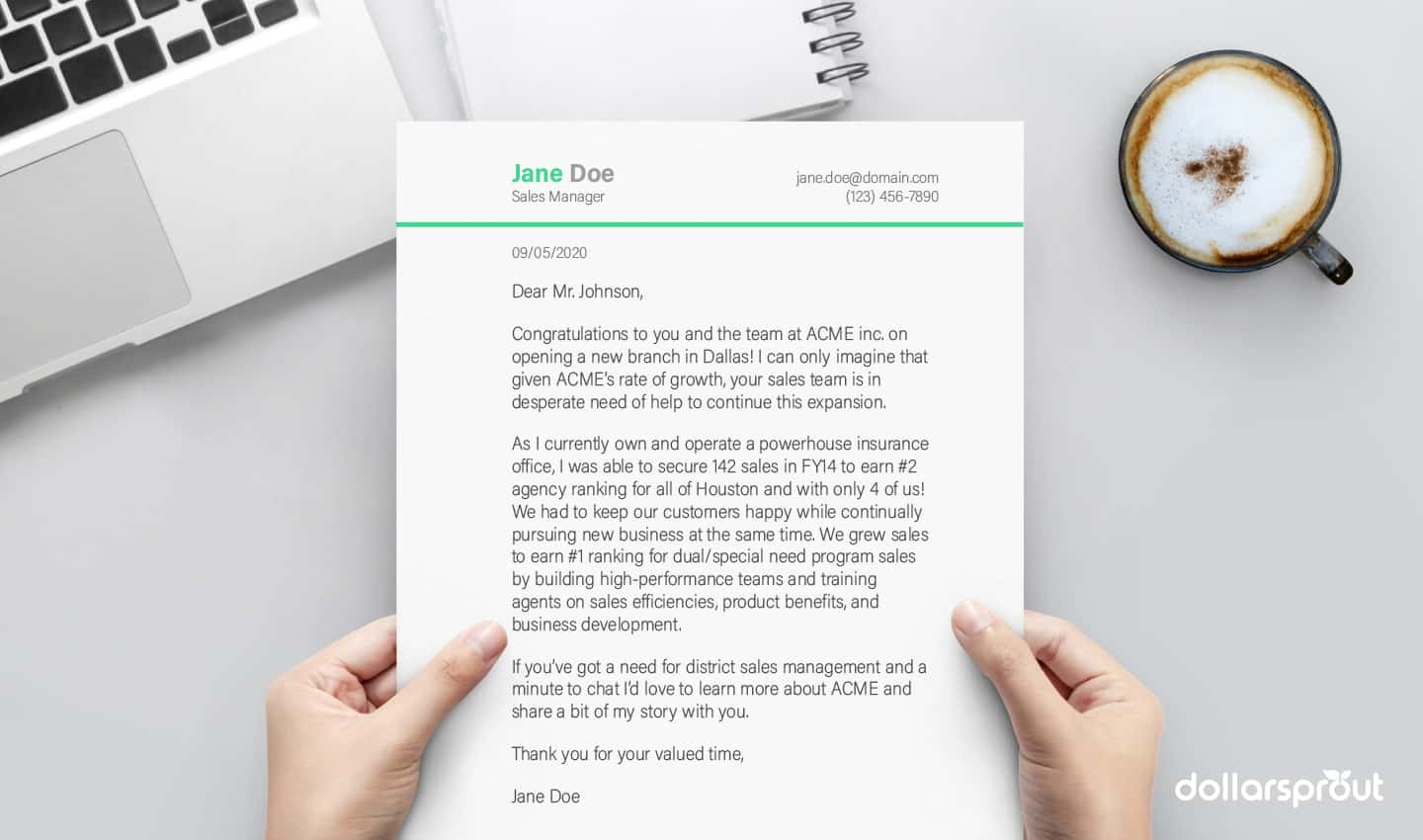 [DATE]

RE: [TITLE] Position

Salutation:

Dear [NAME OF HIRING MANAGER],

Opening Paragraph

Congratulations to you and the team at [NAME OF COMPANY] on [RECENT SUCCESS]. I can only imagine that given [NAME OF COMPANY]'s rate of growth, your sales team is in need of help to continue this expansion.

Body Paragraph

As I currently own and operate a powerhouse insurance office, I was able to secure142 sales in FY14 to earn #2 agency ranking for all of Houston and with only 4 of us. We had to keep our customers happy while continually pursuing new business at the same time. We grew sales to earn #1 ranking for dual/special need program sales by building high-performance teams and training agents on sales efficiencies, product benefits, and business development.

If you have a need for district sales management and a minute to chat, I'd love to learn more about [NAME OF COMPANY] and share a bit of my story with you.

Thank you for your valued time,

[YOUR NAME]
Chime in over here and join the conversation.
💰PS – I want you to know that referrals from satisfied clients are the lifeblood of my business, so I greatly appreciate anyone you send my way. As a bonus, for any referrals you send that purchase services from me, I will send you $25 for each! Thanks again for your continued support!
📰 PPS – Also please subscribe to our monthly Jobstickers newsletter (https://mjwcareers.com/newsletter-signup), Spotify Podcast (https://open.spotify.com/show/4BdzyZsOtgbEtNRTRgbTLi) and Facebook Live group (https://www.facebook.com/groups/455474262138280) to stay up to date on job hunting industry trends, resume and social media profile and networking techniques, recruiter insights, promotions, discounts, and freebies.
✅ PPPS – follow the hashtags #Jobstickers, #ThePragmaticResume & #UnUnEmployed on LinkedIn for other daily insights that can help you in your career or job search!
💻 PPPPS – Thank you for reading! Please visit www.jobstickers.com to keep up with all of MJW Careers' content, and visit www.mjwcareers.com or email warz65@gmail.com (or call 855-YES-EMPLOYEES) to learn more about our resume writing, interview training, career coaching, or outplacement services and solutions.
Comments are closed.